Loading...


Environment



Friday, April 18, 2014




Asian Carp DNA moves north from Ohio River




State officials are concerned about two points in Northeast Ohio that could be gateways to Lake Erie


by WKSU's KABIR BHATIA


Reporter
Kabir Bhatia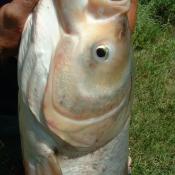 Live silver and bighead carp have been found in the Ohio River, but only the former has escaped north; DNA from both species, however, is about 100 miles south of Akron
Courtesy of Pat Falkman
Download (WKSU Only)
In The Region:
Asian Carp DNA has turned up about 80 miles upstream from where the Muskingum and Ohio rivers meet. Now, state officials are looking at how to secure two points in Northeast Ohio that could be gateways into Lake Erie for the invasive fish. WKSU's Kabir Bhatia has more.
The Ohio Department of Natural Resources is concerned that if the fish move another hundred miles north to Akron and to Little Killbuck Creek, southwest of Akron, they'll be on their way to Lake Erie. So ODNR's John Navarro says the time to act is now.

"They like phytoplankton [and] zooplankton. So the lake they're going to like the most is Lake Erie, because it's the most productive. I don't want to go through the experiment where they get in there and we find out if they're bad or not bad. It's like Russian Roulette."

So far, Navarro says they've discovered only the fish DNA, which he calls "a genetic smoke alarm." His department plans to perform more tests this summer to track the Asian Carp, which can grow up to seven feet long and have been known to jump out of the water, hitting boaters and jetskiers.
---
---
---
Stories with Recent Comments