Loading...


Environment



Friday, April 18, 2014




Muskingum Watershed approves drilling lease, cuts property tax assessment




Homeowners in 18 Ohio counties will see a drop from $12 to $6 starting next year


by WKSU's KABIR BHATIA


Reporter
Kabir Bhatia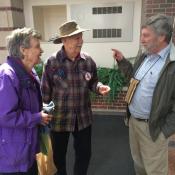 Eric Fenster (right) has an office near Piedmont Lake, while Swanny and Ted Voneida from Kent have owned a cabin there since 1966
Courtesy of K. Bhatia
Download (WKSU Only)
In The Region:
Most landowners in 18 Ohio counties will see a drop next year in their property taxes… of $6. WKSU's Kabir Bhatia reports on the move by the Muskingum Watershed Conservancy District, which is seeing big returns from natural gas royalties.
The watershed's board agreed to cut in half the $12 assessment that was enacted on a half-million parcels of land in 2009. That includes sites in northeast Ohio that drain into the Tuscarawas and Muskingum rivers.

At its meeting today, the Muskingum Watershed also approved a fourth lease to drill on its property, at Piedmont Lake. Colorado-based Antero Resources will pay more than $94 million to drill on about 6,300 acres in Guernsey, Harrison and Belmont counties. Swanny and Ted Voneida and Eric Fenster all have property nearby, and do not feel the small cut in their tax bill makes up for the use of fresh water for hydraulic fracturing.

"An extra $6 per year? How exciting. Oh my, that's going to make us all very happy.

"I was thinking the other day of New York City. The total property there is in the billions, if not more. But they decided Central Park would exist; untouchable. And the Muskingum District, or any kind of public recreational land, should be like our Central Park."

But Stark County resident Robert Villella is happy to get a small break on his property tax.

"I'm for all energy. Fracking is just another part of it. As long as it's done responsibly. You know, everybody's property changes over the years."

The Muskingum Watershed gets $11 million annually from the property tax assessment, but it's gotten close to $78 million so far from Utica shale leases on its land, and for water it sells for hydraulic fracturing. The district also has leases property for drilling at Clendening, Leesville and Seneca lakes.
---
---
---
Stories with Recent Comments