Loading...


Environment



Monday, April 21, 2014




State officials are examining options to stem Asian Carp




Fish could be headed to Akron, which is the gateway to Lake Erie


by WKSU's KABIR BHATIA


Reporter
Kabir Bhatia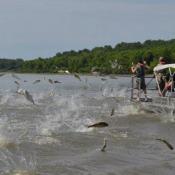 Silver carp are voracious and powerful.
Courtesy of Asian Carp Regional Coordinating Committee
Download (WKSU Only)
In The Region:
Asian Carp DNA in central Ohio could indicate the invasive fish is on the move north from the Ohio River, toward Lake Erie. And as WKSU's Kabir Bhatia reports, state officials plan to attack the problem this summer.
Live carp have been found in the Ohio River, and the DNA indicates they may have moved up the Muskingum River, headed toward Akron. That's the gateway to Lake Erie, which is rich in the plankton the carp thrive on.

John Navarro with the Ohio Department of Natural Resources says changes in state law could be proposed this summer to combat the spread of the species.

"If you're going to collect bait from a body of water, we're going to require that you use that bait in that body of water. Because Bighead carp and Silver carp, when they're young, look very much like common bait fish. It's not like someone would be doing this intentionally. It would be unintentional. And they could inadvertently take them from a location where they're at, to a location where they're not at, and just infest new waters."

Navarro adds that his department plans to conduct tests this summer to track the carp, which can grow up to seven feet and 100 pounds. ODNR will also be electro-fishing and test-netting up and down the Muskingum River to search for live fish this year.
---
---
---
Stories with Recent Comments