Loading...


Government and Politics



Tuesday, April 22, 2014




LaTourette says his super PAC is there to 'level the playing field'




Former Ohio congressman also calls for campaign finance reform during remarks to Akron Press Club


by WKSU's KABIR BHATIA


Reporter
Kabir Bhatia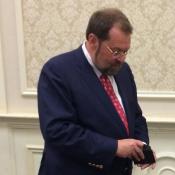 Former Republican Congressman Steve LaTourette says "safe districts" created by gerrymandering are bad for Democracy
Courtesy of K. Bhata
Download (WKSU Only)
In The Region:
A GOP superPAC headed by former Congressman Steve LaTourette is targeting two Republican congressional primaries in which tea party candidates are challenging incumbents. LaTourette says it's not just a matter of who wins, but of the party's future. WKSU's Kabir Bhatia reports.
Steve LaTourette was elected to Congress in 1994 as part of what he calls "the Newt Gingrich revolutionaries."

"Sonny Bono was a member of the class. The football player, Steve Largent, was a member of the class. And there were a lot of articles at the time – some from the Akron Beacon Journal -- that said they thought we were crazy. And I tell you, I didn't know crazy until recently. And we were not crazy."

LaTourette resigned in 2012, citing political gridlock in Washington – much of it, he says, coming from the right of his own party. Today, he's a lobbyist with the Defending Main Street superPAC, which supports moderate sitting House Republicans against tea party challengers. LaTourette, in remarks to the Akron Press Club, called for campaign finance reform, but says his group is simply leveling the playing field in races like the one for his old district in the northeast corner of Ohio.

"Our entrance into the 14th district, and the Simpson race in Idaho, is a direct response to Club For Growth [or] Freedomworks going into the race. So if you look at the timing, Club For Growth goes in in a big way in Idaho, and we respond. We didn't spend a penny in [the] Ohio 14th until Freedomworks came in and blessed Mr. Lynch and gave him a thousand yard signs and had a rally."

He's referring to State Rep. Matt Lynch, who is running to the right of LaTourette's hand-picked successor, Dave Joyce.

Club For Growth
The group is not actively involved in the 14th, but spokesman Barney Keller says they are watching the race. And he says Club For Growth has been involved in Ohio in the past.

"We support candidates that run on a conservative message. Great conservatives like Jim Jordan, who's a congressman from Ohio. We endorsed Josh Mandel for the Senate last time. Maybe Steve LaTourette doesn't like Josh Mandel or Jim Jordan; I don't know. But Steve LaTourette is out of the mainstream, and is nothing more than a lobbyist who makes his living selling his group's access to liberal Republicans so they can push for bigger government and work with the Democrats to increase the size and scope of government."

Keller told the Plain Dealer last week that LaTourette may have eaten "a lot of paint chips as a kid." And he points to the former congressman's voting record -- on items including Cash For Clunkers and the Ryan budget -- as the mark of someone who is not a true conservative.

"He's nothing more than a corporate lobbyist, who in the House, voted for liberal, big government programs such as PBS and wind energy subsidies …. And all of the money going into his super PAC comes from labor unions."

By the numbers
But during his speech, LaTourette said 42 percent of union members are Republicans. He called up the image of Republican icon Ronald Reagan – who pushed for a federal prevailing wage – and for tax increases. And LaTourette also says he voted with the GOP 92 percent of the time in the House. He credits the tea party with big Republican gains in the 2010 election, but says its rhetoric is not helping the party in the long run.

"It's not realistic. It's great for bumper stickers. It's great to rile up a crowd. It's great to feed red meat to a certain audience. What it's not, is governing."

That's going to be a problem for Republicans in the future, LaTourette says, if it plans to rely on "57-year-old white men" as a base. The former Congressman adds that, due to congressional maps drawn largely by Republicans, the GOP will maintain a House majority. But he maintains such safe districts hurt democracy. He cites the Congressional district of Democrat Marcia Fudge, who starts with a base vote of 86 percent.

"What motivation does she have to find the Republican point of view in an issue? And the same thing happens with Republican districts. There's a pretty conservative guy to the west of us: Jim Jordan. On election day, 68 percent of the vote is his base vote. So what motivation does he have to reach out to Marcia Fudge and find something they can agree on?"

And given the changing demographics of America, LaTourette says the push for what he called the "party of purity" will ultimately prevent the GOP from claiming the White House.
---
---
---
Stories with Recent Comments