Loading...


Economy and Business



Thursday, April 24, 2014




Summit County sheriff supports a sales tax hike to fund jail improvements and a sports arena




County Council will decide whether to ask voters to approve a 0.25-percent increase, which could generate about $20 million annually for the county jail, plus a new sports arena


by WKSU's KABIR BHATIA


Reporter
Kabir Bhatia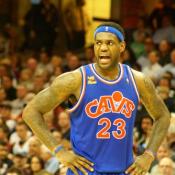 As a high school student, LeBron James and the St. Vincent-St. Mary team played home games at the James A. Rhodes Arena, built in 1983. The University of Akron's basketball team also played at the JAR, but would move to the proposed $76 million complex near Canal Park
Courtesy of Brandon Davis
Download (WKSU Only)
In The Region:
A proposal to hike Summit County's sales tax would fund improvements at the county jail, as well as build an $80 million arena in downtown Akron. And as WKSU's Kabir Bhatia reports, Summit County Sherriff Steve Barry says that's a win-win for the city of Akron.
County Council is considering putting a one-quarter-percent sales tax increase on this fall's ballot. The increase would bump the tax up to 7 percent. On a $20,000 purchase, that's an extra $50.

The extra revenue would be about $20 million a year. Most of that – around $13 million -- would go toward improvements at the county's 911 dispatch system and jail. But the rest -- $7 million – would seed a new arena for the University of Akron basketball teams.

Summit County Sheriff Steve Barry says he has not gaged voter sentiment on marrying the jail to the arena, but he's for the proposed ballot issue.

"Whatever works for helping to revitalize downtown Akron and build up the University. It is one of the biggest employers in the county. And I believe that the James A. Rhodes Arena is getting up there in age a little bit. I believe it would be better for the city, as well as the county, to have another facility to bring in different sports programs and community events."

County officials say state funding has been steadily reduced since 2007, while Summit County has cut its budget by about $100 million.

The new sports arena would be near Canal Park in downtown Akron. The James A. Rhodes Arena was built in 1983.
---
---
---
Stories with Recent Comments