Loading...


Economy and Business



Monday, May 12, 2014




Summit County' sheriff says his jail needs a sales tax hike




An issue on the November ballot would also pay for a downtown Akron arena


by WKSU's KABIR BHATIA


Reporter
Kabir Bhatia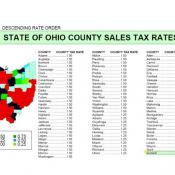 Summit County currently has the second-lowest tax rate in the state, with only five counties having a lower rate
Courtesy of Summit County
Download (WKSU Only)
In The Region:
Tonight, Summit County Council will consider whether to put a one-quarter-percent sales tax increase on this fall's ballot, generating about $20 million a year for a unique combination of causes: to build a new arena and to upgrade the county jail and safety services. And as WKSU's Kabir Bhatia reports, Sheriff Steve Barry says he needs a share of that money to keep his department afloat.

Since the tax hike was announced last month, the $80 million sports arena proposed for downtown Akron has been getting most of the attention. Construction bonds would be funded by the tax revenue.

But most of the new sales tax money would go toward improvements and maintenance at the county jail.

Summit County Sherriff Steve Barry says he's all for the arena in downtown Akron. But he's most concerned about restoring mental health services at the jail, which the county began cutting in 2008.

"To be honest with you, we had much more availability for the inmates on a routine, as well as emergency, basis than we do now. Mental health professionals either being at the facility or on-call; that sort of thing. Doctors and medical personnel, nurses, the whole shot."

Barry adds that jail staffing in general has been cut and is at state-minimum levels. The tax hike would also fund improvements to the county's 911 dispatch and emergency radio systems.

Summit County Executive Russ Pry is slated to introduce the legislation to County Council, followed by public hearings in June.
---
---
---
Stories with Recent Comments