Loading...


Ohio



Friday, April 25, 2014




Ohio warns three groups not to open more charter schools




Sponsors' applications show they 'didn't do their homework,' and the state order is a first


by WKSU's KABIR BHATIA


Reporter
Kabir Bhatia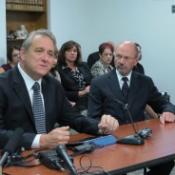 State Auditor Dave Yost is investigating Warren County Educational Services, one of the largest charter school sponsors in the state
Courtesy of Ida Lieszkovszky
Download (WKSU Only)
In The Region:
Three organizations have been warned not to open more charter schools in Ohio. And as WKSU's Kabir Bhatia reports, the state Department of Education says it won't approve schools that are likely to fail.
The Ohio Department of Education says it wants to avoid a repeat of this year, when at least 17 charter schools either failed to open, or closed before finishing out the school year. Spokesman John Charlton says failed charter schools waste taxpayer money and deny education for students. He cites the applications by the Warren County Educational Service Center, which is also being investigated by the state auditor.

"They sought to authorize three schools of 175 students. But they didn't do any kind of basic market research to see if they could support, or even attract, 175 students. Plus they submitted basic financials that were identical to a school that failed last year.

"The Education Resource Consultants tried to recycle a school that closed for failing to meet academic requirements last year. They wanted to use the same superintendent, the same governing authority and the same location. They probably would have tried to hire the same teachers and attract the same kids."

Kids Count of Dayton was also denied a license, after trying to partner with a developer who already owes the state $65,000 for a school that failed last year. Charlton says the three organizations are permitted to continue submitting applications, but may be barred if they repeatedly fail to do their homework in the future.
---
---
---
Stories with Recent Comments