Loading...


Economy and Business



Monday, April 28, 2014




Former Akron University Park Alliance director resigns job out-of-state




Eric Johnson resigned from the UPA in Akron last year, and now says he's resigned his post in Charlotte, NC after articles about his involvement with the UPA began appearing in the Beacon Journal


by WKSU's KABIR BHATIA


Reporter
Kabir Bhatia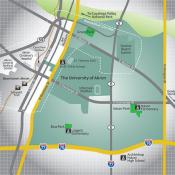 The 50 block area being renovated and developed by University Park Alliance
Courtesy of UPA
Download (WKSU Only)
In The Region:
The former director of a downtown Akron development group has resigned his job out-of-state, as questions continue about his leadership while in Northeast Ohio. WKSU's Kabir Bhatia reports.
After Eric Johnson resigned from Akron's University Park Alliance last April, he headed to North Carolina and Horizon Development, part of the Charlotte Housing Authority.
He left that post earlier this month, telling the Beacon Journal he resigned after articles about University Park Alliance's problems began appearing. He added that he's also still dealing with his mother's death in March.
The University Park Alliance was set-up in 2001 to develop the 50-block area around the University of Akron. In 2012, Johnson outlined the UPA's goals.
"The end game is to create a walkable place where people can both live, work, learn, and play. And they want to start to invest and be a driving point now and well into the future. That's really what it is about."
But by 2013, Johnson resigned under pressure after reportedly over-extending the organization and over-promising to developers. The Knight Foundation rescinded about $8 million in grants and a bank froze the UPA's assets.
The group is now the target of several lawsuits, and Akron Mayor Don Plusquellic says the city's Law Department is examining the UPA's problems and what role Johnson may have played.
The City of Akron has no comment on Johnson's resignation, and the Charlotte Housing Authority could not be reach for comment Sunday.
---
---
---
Stories with Recent Comments