Loading...



From WKYC.COM / TV 3
Get the latest school closings and delays


Funding for WKSU is made possible in part through support from the following businesses and organizations.
---
For more information on how your company or organization can support WKSU, download the WKSU Media Kit.

(WKSU Media Kit


)
---

Courts and Crime



Wednesday, April 30, 2014




Appeals court uphold Dimora's convictions and sentence




Former Cuyahoga commissioner will continue to serve his 28-year corruption sentence


by WKSU's M.L. SCHULTZE


Web Editor
M.L. Schultze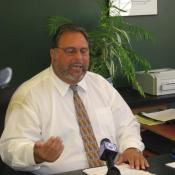 Dimora has maintained that benefits he collected from friends and business associates were gifts; prosecutors, jurors and now an appeals court says they were kickbacks.
Courtesy of FILE PHOTO
Download (WKSU Only)
In The Region:
A federal appeals court has upheld the sentence of former Cuyahoga County Commissioner Jimmy Dimora. Dimora is serving a 28-year sentence in California for his conviction on 31 corruption charges. Dimora had maintained that U.S. District Judge Sarah Lioi made mistakes during his trial in 2012, including not allowing Dimora to submit state ethics disclosure forms. He argued that those forms made it clear he never tried to hide gifts from contractors and business associates. Prosecutors say the forms amounted to hearsay. After today's 6th Circuit Court of Appeals ruling, the U.S. Attorneys office issued a statement saying, in part, that "the jury's verdict was supported by overwhelming evidence of their greed and corruption."
---
---