Loading...


Education



Wednesday, April 30, 2014




Ex-Richmond Heights schools chief pleads guilty to bribery and theft




Head of buildings and grounds also admits to criminal charges


by WKSU's M.L. SCHULTZE


Web Editor
M.L. Schultze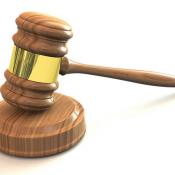 Two former administrators of Richmond Heights schools admit guilt.
Courtesy of Creative Commons
Download (WKSU Only)
In The Region:
The former superintendent and another administrator of the Richmond Heights School District have pleaded guilty to corruption charges. Robert Moore admitted to one count each of bribery and theft in office today in Cuyahoga County Common Pleas Court. And the former head of buildings and grounds, Richard Muse, admitted to theft in office and forgery. Both are to be sentenced May 22. The pair were arrested in February after they accepted two payments from an early childhood education center that rented space from the district. Moore and Muse were accused of threatening to end the center's lease unless they were paid off. Additional charges were filed in March, when they were accused of using district money to pay for a trip to Columbus, and Muse was accused of forging his training certification.
---
---
---
Stories with Recent Comments