Loading...


Government and Politics



Thursday, May 1, 2014




Mortgage assistance continues after Save the Dream Ohio ends




Northeast Ohio agencies can still help homeowners facing foreclosure


by WKSU's KABIR BHATIA


Reporter
Kabir Bhatia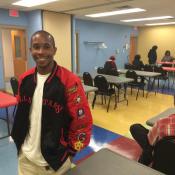 Terence Young of Stow is looking for help with the last $2,500 toward his home, after being laid off. He says the counselors are "110 percent sure" he will get assistance under the Save the Dream Ohio program, which ended April 30
Courtesy of K. Bhatia
Download (WKSU Only)
In The Region:
A $570 million program to help struggling Ohio homeowners has come to an end. But as WKSU's Kabir Bhatia reports, there are still options for people who need mortgage assistance.
Last night, about a dozen people were at Mason Elementary in Akron, making an 11th-hour push to get applications in for Save the Dream, the mortgage assistance program that grew from the federal government's settlement with five mortgage servicers.

But Save the Dream is over after four years. One of the people applying was Terence Young from Stow. The 29-year-old needs help paying off the $2,500 he owes on his house.

"It's right there by Bob's Hamburgers. [I] paid $20,500 for it with a 10 percent interest rate. I like being a homeowner: a lot of freedom [but] a lot of responsibilities you have to take care of."

Young bought the house three years ago, and until recently had a good job as a maintenance worker. His girlfriend was paying part of the mortgage, too. But the couple split up, he lost his job, and now he works in construction.

He has not gotten behind on his payments – yet. Toree Stokes of Mustard Seed Development Center in Akron (330-631-0350) says that's an important factor in getting mortgage assistance.

"Individuals who are not delinquent at this time – that's the best time to receive the assistance. This is not something to be embarrassed about. This is something that everyone is going through because of the economy change. So getting this assistance is not saying anything negative; it's saying something positive because you reached out."

Stokes says, with Save the Dream over, area housing counseling agencies still have ways to help people who may be marching toward foreclosure.

"Assistance with talking with their lender to try to get it modified. Or to try to get it to the place where they would make a determination to whether the house is still affordable for them. And if it's not affordable, then coming up with an exit strategy."

Stokes says the entire process takes about 4 months on average, and much of the lag time can be due to gathering the right paperwork from homeowners. Mustard Seed Development, as well as many other agencies, are still offering help throughout Northeast Ohio.

Here's a list from Attorney General Mike Dewine as well as another of HUD-approved housing counselors. More links are available here.
---
---
---
Stories with Recent Comments