On a stage in front of about 300 people, Jim Tressel was talking and answering questions for more than an hour. He's spent two years as the University of Akron's vice president of student affairs, following 37 years of coaching college football. He says student success would be his main priority as president.

To do that, he believes the university needs to cut more than it has to save dwindling resources, and use the savings to boost the things it does best. And, he would make recruitment of motivated students one priority, and retaining them another.
Finding good students and keeping them is a priority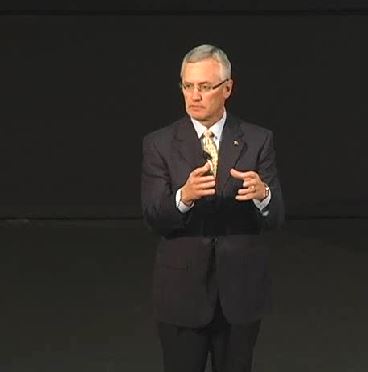 "We have so many budget discussions and difficult times that are real. The No. 1 financial lever we have is retention. Everyone in the room, whether it's the person who greets them at Starbuck's or the person in the parking lot, or the departmental office or the faculty or administrative member or whoever, is all a part of making sure that someone is really believing that this is where I want to be and where I can succeed.'
As president, the former football coach says he would not favor athletics over academics.

Throughout his presentation, Tressel talked about creating "oneness" among faculty, staff and students as an important way to move the university forward.
Tressel wants a selfless campus community
"The thing that's most important is that we create this foundation of selflessness and passion to play whatever role we need to play. And then whatever we have interest in, if it's business or dance or whatever, as long as we have the core foundation and the things that will make us a good member of the group or society, then go and do the things you enjoy."
After Tressel's presentation, recently retired English professor Janet Mink gave her assessment.
"On the plus side, he's very concerned with student welfare and well being, and that's a very important trait. Sometimes the top administrators don't seem to see the students; they're little specks on the horizon. So I think that's good. I'm not sure he really addressed all of the responsibilities and concerns a president of the University of Akron would have.'
One rap against Tressel is that he does not have a doctorate, as most college presidents do.

The other two finalists for the University of Akron job are Ronald Nykiel, provost and vice president of academic affairs at the University of Maryland Eastern Shore, and Scott Scarborough, provost and vice president for academic affairs at the University of Toledo. They both made their pubic presentations earlier this week. Tressel is also a candidate for president at Youngstown State University, where he also coached football.