Paulette Washko is a director of research compliance at Kent State's main campus. Back in the summer, she decided to dedicate an entire year to biking as a means of exercise and good health. But instead of the traditional two-wheeled model, Washko is using an adult trike that operates on solar as well as pedal-power.

Washko says she first learned about the ELF one night after her husband recorded a technology show that featured the trike.
Yes, even in bad weather
"When the weather got so bad over this winter I decided to start googling bubbles over bikes, or bike bubbles, because I couldn't figure out how I was going to do it with this terrible weather," Washko said. "And my husband, knowing that I was looking for a bike with some type of cover, actually recorded a tech show for me in which they were featuring the ELF. As soon as I saw it, I jumped out of the chair and I was like, 'That's it. That's exactly what I want.'"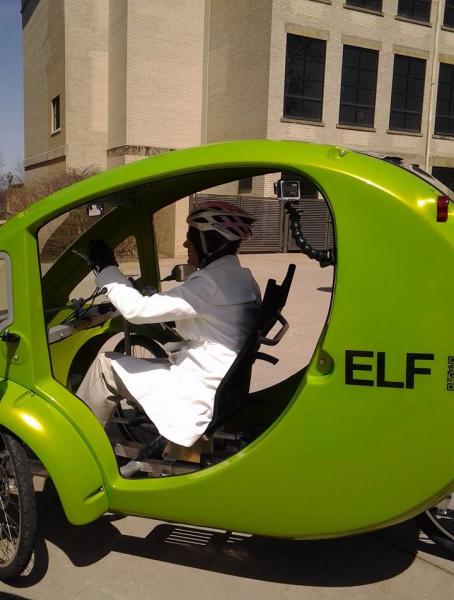 ELF stands for electric, light, fun. Washko's is one of the first 400-or-so made by Organic Transits. The trike has two wheels in the front, and one in the back. Its oblong, pod-shaped shell features a solar panel, windshield and motor to allow the vehicle to accelerate with more speed. It also has all the essential parts of a traditional bike that relies purely on people power.
Washko gave her son her 2009 Acura MDX after buying the trike and fully committing to her year-long challenge.
Washko says she's only had the ELF for a month. Still, she's braved temperatures as low as the teens and says she doesn't get too cold because the pedaling keeps her warm.
Modifications in the works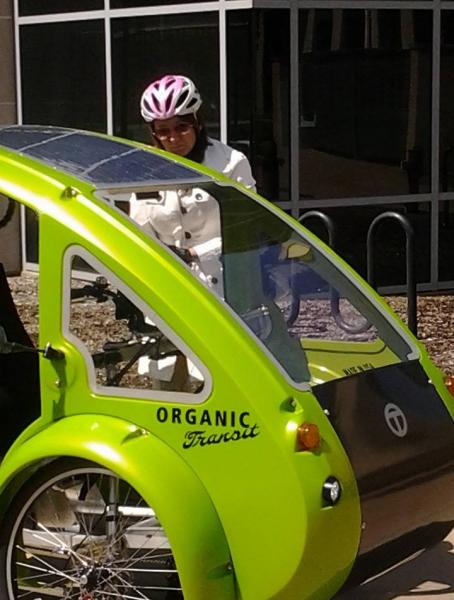 She says she and her husband are planning to make a few new additions to the trike like including heated seats.

"My husband's going to put in a little stereo system and it's going to have a heated seat eventually.
If that sounds like a luxury car, Washko says it's no accident.
"Actually, Rob Cotter, the inventor, he actually worked for BMW and Porsche. So this was his vision from 20 years ago. And just now, I think now people are open and receptive.
Is it a car; is it a bike?
Even though the ELF is an electric vehicle, Washko describes it as just a bike. So she says it doesn't need a license plate like cars do – a point she had to push with Stow police. After Stow's legal department looked it over, they confirmed Washko's trike didn't need plates.
She travels four miles between her home in Stow and Kent State and about 11 miles to Kent's Twinsburg campus.
Washco also runs errands to places like Bed Bath and Beyond and Giant Eagle where she's loaded up her trunk with six hand towels, six wash cloths, a 16-pound bag of dog food, milk, grape juice, a carton of eggs and a pack of buns.
According to the Organic Transits website, the standard-model ELF sells for about $5,000. It also offers the option of customized trikes.