Loading...


Arts and Entertainment



Friday, May 2, 2014




Playhouse Square gets set to reveal its new look




A $1.2 million outdoor chandelier is reportedly the largest of its kind in the world


by WKSU's KABIR BHATIA


Reporter
Kabir Bhatia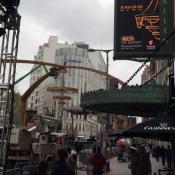 The new Playhouse Square chandelier hangs 24 feet above Euclid Avenue and is 20 feet tall.
Courtesy of KABIR BHATIA
Download (WKSU Only)
In The Region:
Playhouse Square in Cleveland is tonight celebrating a years-long revitalization project, which will culminate in the lighting of a giant outdoor chandelier suspended two stories above Euclid Avenue. WKSU's Kabir Bhatia is there.
Final touches are being put on the stage and audience areas on Euclid Avenue at Playhouse Square. Sound is ricocheting off the Hanna Building as marching bands and recorded music compete to pump up the gathering crowd.

Along with music and food, there is the GE-made 20-foot chandelier that will now greet theater-goers heading into the Allen, Ohio, State and other theaters. It weighs more than 4 tons and cost $1.2 million – reportedly the largest such outdoor structure in the world.

There's also new digital signage, a huge 1920s-style retro sign, plus gateway arches at either end of the theater district. It's part of a $16 million revitalization effort for the nearly 100-year-old arts complex.

Festivities culminate with the official chandelier-lighting at 9:30 p.m.

The area around the arts complex on Euclid Avenue is filling with Clevelanders celebrating the event, surrounding the stage at Euclid and 14th Street to await a concert by Hot Chelle Rae before the chandelier is lit tonight. It's the apex of a years-long, $16 million revitalization project for Playhouse Square, the second-largest arts and theater complex outside of Lincoln Center in New York.Cleveland State student James Carter says it's an exciting time to be on the north coast.

"It's great for Cleveland. It's something we don't see all the time. We're walking down the street saying, 'We don't feel like we're in Cleveland.'"

KB: "Where do you feel like you are?"

"A city where things happen. It's good to see [and] exciting in a certain respect."

In 1978, Playhouse Square was added to the National Register of Historic Places. City officials say they want the new chandelier and entryways to become as iconic as the Hollywood sign or Times Square. But for theater fan Steph Bayer, enjoying a drink and people-watching outside Otto Moser's restaurant, she'll always love Playhouse Square.

"I don't think it matters if it's as famous as something else, because this is Cleveland and it's great on its own. They get some amazing shows down here and they have some great speakers and I just love what it brings people together for."

Many of the theaters here were built in the 1920s, but were slated for demolition by the late 1960s. Then, local preservationists prevailed on city officials to step in, and a production of "Jacques Brel is Alive and Well" kicked off the modern-era for Playhouse Square in 1973. The revue was scheduled to play two weeks, but stayed at the State Theater for two years.



---
---
---
Stories with Recent Comments