Loading...


Government and Politics



Friday, May 2, 2014




Immigration groups rally in Cleveland tomorrow




Groups ramp up pressure for immigration reform and fewer deportations




Story by

LYNDSEY SCHLEY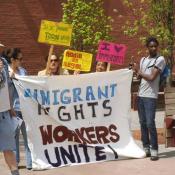 People participate in last year's immigration rally and march.
Courtesy of Don Bryant
Download (WKSU Only)
In The Region:
Immigration groups in Cleveland will hold their annual rally and march tomorrow at noon. Don Bryant is the director of the Greater Cleveland Immigrant Support Network. He says the groups are calling for comprehensive immigration reform. Bryant says they are also asking the Obama administration to stand by its promise to stop deporting non-violent immigrants living in the country without proper documents. He says deportation hurts families.
"We do not want to see families broken up," Bryant says. "They will be a drain on the system in the future. If families are together, they are economically viable. There's really no reason to be wasting time, energy and money to round up people who are working for our economy, working for our community."
José Mendez will be speaking at the rally. He is the first student to get an Ohio driver's license through a deferred action program for those who entered the country as children.
---
---
Stories with Recent Comments