Loading...


Ohio



Friday, May 2, 2014




Would moving judicial elections get Ohio voters' attention?




Ohio Supreme Court Justice Maureen O'Connor thinks so, and hopes to get a change to the Ohio Constitution to do that




by WKSU's STATEHOUSE CORRESPONDENT JO INGLES



Reporter
Jo Ingles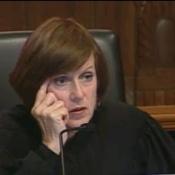 Chief Justice Maureen O'Connor says judicial elections are important, but often escape voter attention.
Courtesy of VIDEO CAPTURE
Download (WKSU Only)
In The Region:
The chief justice of Ohio's Supreme Court wants to change the way Ohioans elect judges. Justice Maureen O'Connor is proposing an amendment to Ohio's constitution that would move judicial races to odd-number-year elections, when candidates for president, congress, governor and other high-profile races are not on the ballot.
"The partisan office holders shout their messages and judges are relegated to the very limited ability of whispering their messages. We can't compete. … In years in which judges are on the ballot, the average drop off is at least 25 percent, sometimes a high of 40 percent of the voters who go to the polls (who) do not even elect a judge because they don't even pay attention to that part of the ballot.
O'Connor's plan also calls for increasing the qualifications for people who want to be elected as a judge.
She plans to talk to the Ohio legislature about her plan in the coming weeks and hopes to have the amendment on the Ohio ballot next year.
---
---
---
Stories with Recent Comments