Loading...


Government and Politics



Friday, May 2, 2014




So far, Cuyahoga's sin tax is drawing fewer voters than anticipated




Cuyahoga County officials say they expected higher turnouts despite this being a primary




Story by

LYNDSEY SCHLEY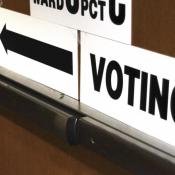 Early voting numbers for the primary have suggested a low turnout.
Courtesy of Robert Sustersic
Download (WKSU Only)
In The Region:
Cuyahoga County officials are reporting that the sin tax is bringing out fewer voters than anticipated heading into this weekend. Issue 7 would extend a tax on alcohol and tobacco for another 20 years to pay for repairs on Cleveland professional sports arenas. Pat McDonald is director of the Cuyahoga County Board of Elections. He says he expected the issue to attract voters, but turnout so far has been low.
"I'm seeing people coming down more for the candidates that they support or some of the races such as the county executive race that they have an interest in, but I'm not seeing a strong get out to vote effort of the Issue 7 voters thus far," McDonald says.
McDonald says as of Friday, only about 60,000 early voters had returned absentee ballot applications and about 1,000 had voted in person at the board of elections. Cuyahoga County expects an overall turnout of about 26 percent for Tuesday's primary.
---
---
Stories with Recent Comments