Loading...


Government and Politics



Friday, May 2, 2014




Plusquellic fires back at contractors over Akron jobs guarantee




In response to a federal suit, the mayor wants the city to manage the massive sewer project to ensure residents get a share of the jobs


by WKSU's TIM RUDELL


Reporter
Tim Rudell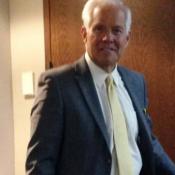 Akron Mayor Don Plusquellic heading back to his office after meeting with the reporters in an afternoon news conference
Courtesy of WKSU
Download (WKSU Only)
In The Region:
Contractors bidding on Akron' billion-dollar sewer project have to guarantee that 30 percent of the workers they hire for the job are from Akron. Ou-of-town contactors don't like that and took the matter to court this week. But, WKSU' Tim Rudell reports that the response of Akron' mayor may not have been what they were expecting
The Ohio Contractors Association charged in federal court that Akron's  hiring requirement favoring a certain class of employees—Akron citizens--violates Constitutional guarantees of "equal treatment" in the awarding of commercial contracts. The Association's request for an injunction against the city opening bids on the project was denied Thursday, but the case will proceed.

Time of the essence
With a federally mandated deadline to get the mega-project going—the initial phase is to be done in 2015—and the prospect of a legal proceeding creating delays, Mayor Don Plusquellic reacted to the trade association's challenge this way.  "If you want to continue to pursue this, fine, we just won't bid out the work; because there's nothing in the Constitution, or the State of Ohio laws, or anywhere else that says we have to use private contractors.  We can do it ourselves, with city employees."

Alternative
Noting that the City's Consolidated Sewer Overflow project—or CSO—is not federally or State funded, Plusquellic says Akron is free to use an alternative public project management approach that eliminates the general contractor and the practice of whole-project bidding. Instead the design and construction aspects of the project will be separated, and Akron itself will hire services and people to complete the necessary work based on pre-set fees. 

City Lawmakers
Plusquellic says he'll ask City Council to approve the approach during Monday's regularly scheduled meeting; so that work on the CSO can get underway as soon as possible, and without the risk of being delayed by the Contractor's Association legal action.
---
---
---
Stories with Recent Comments