There are two names on the Democratic primary ballot, Larry Ealy and Ed FitzGerald. For FitzGerald, the former FBI agent and current Cuyahoga County executive who's been running as a Democrat for governor for more than a year, the contest isn't this week against Ealy. It's this November against incumbent Republican Gov. John Kasich.

"I'm not sure there's a campaign behind the name and so we haven't spent a lot of time talking about that," FitzGerald said. "We think we do have a serious opponent in the general election and that's why we spend most of our time comparing ourselves to who we think the Republican nominee is going to be."
An unknown competitor
Though Ealy is on the ballot, he has no website, no campaign logo or slogan and has held no fundraisers or official events. The unemployed Dayton area man has filed no campaign-finance reports or paperwork other than the 1,321 signatures he needed to run for governor. He has no social media presence, a campaign staff or office, or even an official photograph. All these things make it very unlikely he'll get more than a small percentage of votes.

But obviously, that's not the way Ealy sees it.

"I don't see why I can't beat FitzGerald," Ealy said. "Until we get a black governor, we'll never have equal protection, equal due process. There's a slew of things that are lacking in Ohio for the last 211 years."
On the issues
Ealy talks about legalizing marijuana, about increasing youth employment, about offering loans to minority-owned businesses, about cutting taxes for the elderly and about bringing passenger train service into Ohio.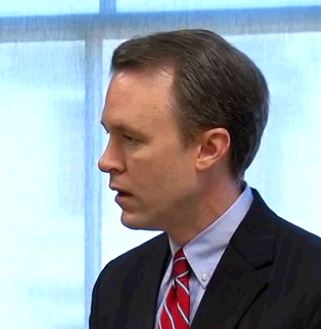 FitzGerald, who's under the pressure of knowing that he likely will be facing a well-funded and very visible incumbent in the fall, talks more about Kasich's ideas that he feels aren't working: namely, his economic policies and his cuts to public education and local governments.

"I think all of that adds up to the very strong sense that a lot of people in Ohio have that Ohio has been run basically for the benefit of the governor's friends and a few people at the top and the rest of Ohio is on the outside looking in and they want a different direction than that," FitzGerald said.
A closer look at campaign funding
That leads to the issue of money. FitzGerald has around $1.5 million – Kasich has $8.5 million, a five-to-one advantage.

Ealy's past in question
Ealy doesn't have much to say about money because he doesn't have much. Ealy was a bodybuilder turned exotic dancer in the '80s and most recently was a tow-truck driver. But he hasn't worked in many years, and has spent much of that time learning about the law and filing lawsuits. He's filed so many that he's been labeled a vexatious litigator. But Ealy says in spite of all the things that have been written and said about him, he's for real.

"You ain't going to find no realer person," Ealy said. "I'm down to earth. I'm home-grown. This is all real. I'm not a copy. I'm the blueprint."
Primary debate unlikely
Ealy says he wants a debate with FitzGerald, but FitzGerald says he considers a meeting of both candidates with the editorial board of the Plain Dealer/Northeast Ohio Media Group last month as close to a debate as there will be in this race.