Loading...


Health and Medicine



Monday, May 5, 2014




Two suspected mumps cases in Ashtabula County




Two elementary school children had contact with people in Franklin County where outbreak is centered


by WKSU's AMANDA RABINOWITZ


Morning Edition Host
Amanda Rabinowitz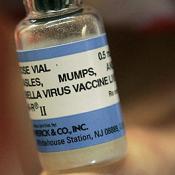 The Ohio Department of Health reports 310 cases of mumps in 13 counties through May 2. The most recent onset of symptoms was April 30.
Download (WKSU Only)
In The Region:
A central Ohio mumps outbreak appears to be making its way north. Ashtabula health officials say they're awaiting tests to confirm cases among two elementary school students. Health Commissioner Ray Saporito says both children have had contact with people from Franklin County, where a mumps outbreak centered at Ohio State University has grown to more than 300 cases. He says, however, most children should already be vaccinated for mumps, first at 12 to 15 months of age and then when the child is about to enter kindergarten.
"Parents need to do an assessment of their children and make sure that they were immunized and there's two doses required. Sometimes people get one dose and not the second dose. And these are all reminders of why these vaccinations are so important."
Saporito says his department will have confirmation of the tests in the next several days and will consider holding a vaccination clinic at Kingsville Elementary in the Buckeye Local School District.
---
---
---
Stories with Recent Comments