Loading...


Environment



Thursday, May 8, 2014




Morgan County fracking rig spills hundreds of barrels of "drilling mud"




State and federal crews contained the leak after three days




Story by

VIVIAN GOODMAN AND M.L. SCHULTZE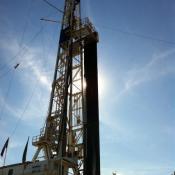 Drillers use what's called "drilling mud" to lubricate drill bits as they cut into the rock.
Courtesy of TIM RUDELL
Download (WKSU Only)
In The Region:
A drilling site in southeast Ohio began leaking hundreds of barrels of oily drilling fluid Sunday night, and it reached a nearby creek before state and federal crews finally contained it Wednesday. The spill in Morgan County also forced the evacuation of a half-dozen residents because of the risk of natural gas escaping. The U.S. EPA says a driller hit an unexpected pocket of gas, and the well-head failed under the pressure. More than 300 barrels of the oil-and-water mix were collected on the site by noon Tuesday. Tom Stewart of the Ohio Oil and Gas Association says the operator of the well, PDC, notified the Ohio Department of Natural Resources and EPA as required.
"It was a temporary problem, they're out there cleaning it up. They don't want that mud on the ground. It was drilling mud. Yeah, accidents happen through any industrial process. It's not a perfect world. So what you do is you create regulatory policy that tries to manage risk, instead what other people want, which is regulatory policy that would ban risk, and America was built on risk."
ODNR says such spills are rare. There is no requirement under state law that the agencies notify the broader public, and there was no mention of the spill on the ODNR or Ohio EPA web sites this morning.
---
---
Stories with Recent Comments