Loading...


Health and Medicine



Friday, May 9, 2014




MetroHealth plans major construction as it winds down a county subsidy




Dr. Akram Boutros says the hospital will begin replacing its new westide campus by 2016


by WKSU's KABIR BHATIA


Reporter
Kabir Bhatia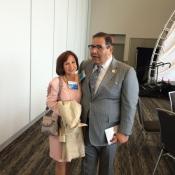 MetroHealth CEO Dr. Akram Boutros, and Rita Horwitz of Better Health Greater Cleveland, say the system can wean itself off $36 million in taxpayer subsidies, and still start construction on a new campus, by 2016
Courtesy of K. Bhatia
Download (WKSU Only)
In The Region:
Cuyahoga County's MetroHealth System has announced a major revamp of its campus on Cleveland's near west side, which it plans to accomplish without a local tax subsidy.

CEO Dr. Akram Boutros said today that MetroHealth needs to offer more patient-centered care at a lower cost. And he plans to do it with grants and private contributions, weaning the hospital by 2016 from the $36 million it gets from the county each yearIn the past year, MetroHealth went from a $6.5 million quarterly loss to a yearly surplus of $19 million. Rita Horwitz of Better Health Greater Cleveland says those numbers – and the new plan – might not have been possible five years ago.

"Well, it might have been a thought, but I'm not sure it would have been operationalized. And what we see here is some concrete plans to move that forward since Dr. Boutros has arrived. We will have supporters from the business community, the healthcare community and the people themselves. We will be extremely instrumental in supporting this mission."

The hospital says about three-quarters of the buildings on its current campus have exceeded their useful life, and require $400 million in repairs. MetroHealth plans to spend the rest of this year surveying community leaders and fundraising. Construction is slated for 2016, with a 2020 opening.
---
---
---
Stories with Recent Comments