Loading...



From WKYC.COM / TV 3
Get the latest school closings and delays


Funding for WKSU is made possible in part through support from the following businesses and organizations.
---
For more information on how your company or organization can support WKSU, download the WKSU Media Kit.

(WKSU Media Kit


)
---

Education



Monday, May 12, 2014




Cleveland Catholic Diocese expands morality clauses for teachers




A spokesman says the church is clarifying what it expects from 'teacher-ministers' on moral issues




Story by

LYNDSEY SCHLEY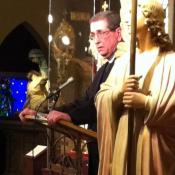 Bishop Richard Lennon heads the Catholic Diocese of Cleveland, which just expanded its morality clause in elementary teacher contracts.
Courtesy of KEVIN NIEDERMIER
Download (WKSU Only)
In The Region:
The Catholic Diocese of Cleveland is requiring its elementary school teachers to sign contracts with expanded morality clauses. Spokesman Robert Tayek says the new contracts are simply more specific on what the church considers to be moral behavior. The clause's ban includes publicly stating views contrary to church positions on issues such as same-sex marriage, abortion and in-vitro fertilization. The teachers are also referred to as "teacher-ministers." Tayek says that reflects their role as educators in both secular and religious subjects. He says clarification of existing morality clauses will help protect the diocese in legal cases.
"This was brought about because there have been lawsuits in other dioceses in Ohio and as well as across the country where clarification was really necessary so it wouldn't be subject to a broad interpretation," Tayek says.

Tayek says those who refuse to sign the contract would no longer be able to teach, but he does not believe it will be an issue.

A similar contract change in Cincinnati sparked a protest and petitions against the change. The petitions received 24,000 signatures
Page Options

Print this page

E-Mail this page / Send mp3

Share on Facebook
---
---
Stories with Recent Comments