Loading...


Ohio



Monday, May 12, 2014




New University of Akron president being welcomed 'with open arms'




A reception for Akron's incoming president, Scott Scarborough, is today at 2 p.m.


by WKSU's KABIR BHATIA


Reporter
Kabir Bhatia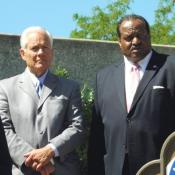 Akron Planning Director Marco Sommerville (right, with Mayor Don Plusquellic) says he's glad University of Akron President Scott Scarborough, and former Ohio State football coach Jim Tressel, have both landed at top posts in Northeast Ohio
Courtesy of Mark Urycki
Download (WKSU Only)
In The Region:
The University of Akron today welcomes Scott Scarborough at a reception, where he'll also speak to the press for the first time since being named the school's 16th president. WKSU's Kabir Bhatia reports.
Scott Scarborough comes to Akron after seven years as provost at the University of Toledo. His appointment came last week just hours after Jim Tressel reportedly withdrew his candidacy. Youngstown State announced Tressel as its new president on Friday.

Former Akron council president Marco Sommerville, who's now the city's director of planning and urban development, says the appointment of Scarborough is good news for the university and the city.

"We're real excited about working with him. He has a great track record. I think it was a surprise to many that Tressel didn't get it, and fortunately for him, he's moved to Youngstown and landed on his feet. And I'm sure Dr. Scarborough will do a fantastic job here in Akron. We have opened our arms to him and are willing to help make him successful in this town."

As president of the university, Scarborough received a five-year contract with an annual base salary of $450,000. He succeeds Luis Proenza, who is stepping down after 15 years to return to teaching in July. Today's reception is at 2 p.m. in the University of Akron's Honors College.
---
---
---
Stories with Recent Comments