Loading...


Ohio



Monday, May 12, 2014




Scarborough: With new presidents, NE Ohio universities may collaborate more




Incoming University of Akron chief says his accounting background will serve Akron well


by WKSU's KABIR BHATIA


Reporter
Kabir Bhatia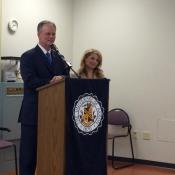 Incoming University of Akron President Scott Scarborough, and his wife, Tammy, say Akron seems to be on an upswing
Courtesy of KABIR BHATIA
Download (WKSU Only)
In The Region:
Scott Scarborough is bringing an accounting background to his new post as the University of Akron's 16th president. WKSU's Kabir Bhatia reports on what the Texas native has planned when he officially takes office this summer.
Scott Scarborough says his background meshes well with Akron, having come from another public college in Ohio, the University of Toledo. At his
welcome reception and first press briefing, he outlined plans for his first 90 days, which include examining the financials at an institution that's laid off dozens of people, cut programs and slashed tens-of-millions of dollars from its budget in recent years.

"If you can look people in the eyes at an institution and say, 'We're on a solid foundation; stop worrying about the finances and let's make a difference in teaching, research and service,' then that frees people up to focus on what they do best. Fortunately, I think the Board [of Trustees] would want me to do that, given my background. And I feel very comfortable doing that it plays to my strengths. So it's something I ought to be able to contribute to very early in the process."

The university's cuts were in response to a number of factors, including a 6 percent drop in fall enrollment.

Replacing Jim Tressel
Scarborough says he also plans to assemble his executive team in the first three months, and is not sure if he'll replace Akron's VP of strategic engagement, Jim Tressel.

"The organizational structure is something that every new president is going to look at and say, 'Does it fit the institution and what it needs at a particular time?' Given the collection of strengths and weaknesses that I bring to the job, does it need to be refashioned in some way to make sure that all the competencies are represented at the senior level? You don't lose a person like that, and it's not just an easy re-fill. It's on the list of things to look at."

Scarborough was named president last week, just hours after Tressel – the former Ohio State football coach -- reportedly withdrew his candidacy in Akron to take the top job at Youngstown State.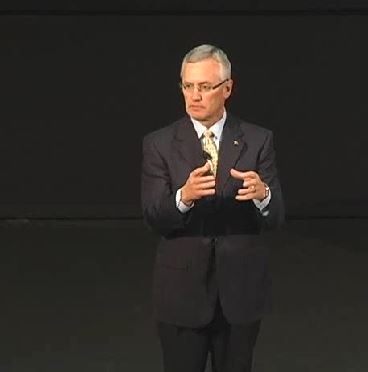 "I got a call from my son who is 26, from Texas. And he said 'Dad, you were just on ESPN! You're cool again!.'"

Collaboration with the new breed
Scarborough says working with Tressel at Youngstown, as well as the incoming presidents at Cleveland State and Kent State, will help decrease costs and increase access to education for Ohio students.

"If we do work together, it'll allow us to keep the cost of higher education lower and access to higher education available to more students throughout the state. So that's the expectation of the Governor and the legislature."

He also cited the work in community engagement by his predecessor, Luis Proenza, who is stepping down after 15 years to return to teaching in July.

"There was actually a lady who worked for me at the University of Toledo who did her dissertation on the economic development work at the University of Akron. It gave me a great background on what to expect when I got here. I was pleasantly surprised. In person, it's even more impressive than it was on paper. The polymer institute and everyone connected to it is just a gem. The city itself feels like a city that's on the upward move."

Scarborough was provost at the University of Toledo for seven years, and his wife, Tammy, is CFO for the school's medical center. She says she plans to move their family – including a 6-year-old daughter, and Tammy's parents – to Northeast Ohio in the coming weeks. And then, she'll begin job-hunting.
---
---
---
Stories with Recent Comments