Loading...


Sports



Monday, May 12, 2014




Brown's out, Griffin's in and the Cavs hunt for a head coach, again




New GM Griffin looks for his own guy and player support for Mike Brown wasn't there


by WKSU's KEVIN NIEDERMIER


Reporter
Kevin Niedermier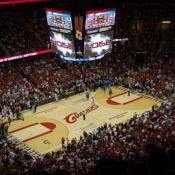 The Cavs look for a head coach, an d a way to fill the Q and make the playoffs as they did back in 2009.
Courtesy of Wikipedia
Download (WKSU Only)
In The Region:
The Cleveland Cavaliers have fired head coach Mike Brown, again.

Today, the team released Brown, who went 33 and 49 and missed the playoffs in his first season back with the team. Brown was also fired in 2010 after five seasons with the Cavs. In another move today, the Cavaliers named David Griffin general manager. Griffin had been acting GM since last February. WKYC sports reporter Dave Chudowsky says Brown was expected to take the team to the playoffs this season. And even though he didn't, Chudowsky says his firing is somewhat surprising.
"I thought if Griffin stayed on, Mike Brown would stay on, and he'd give him another shot. But obviously, Griffin wants to bring on his own guy, make this his team, and ultimately, what it comes down to is, … the players obviously didn't support Mike Brown."
Cavaliers owner Dan Gilbert says Brown worked hard last season, and there was some progress, but the team needs to move in a different direction. The search for a new head coach begins immediately.
---
---
---
Stories with Recent Comments