Loading...



From WKYC.COM / TV 3
Get the latest school closings and delays


Funding for WKSU is made possible in part through support from the following businesses and organizations.
---
For more information on how your company or organization can support WKSU, download the WKSU Media Kit.

(WKSU Media Kit


)
---

Ohio



Tuesday, May 13, 2014




Cuyahoga River rising after 5 inches of rain falls in 2 hours Monday




National Weather Service is monitoring the situation


by WKSU's KABIR BHATIA


Reporter
Kabir Bhatia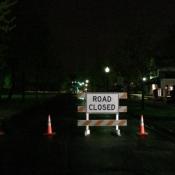 About 100 yards of Ravenna Street in Hudson -- near the police station -- was closed early Tuesday morning due to flooding
Courtesy of K. Bhatia
Download (WKSU Only)
In The Region:
Although most roads are open again after Monday night's heavy precipitation, flood concerns continue this morning. WKSU's Kabir Bhatia reports.
Last night, my yard was dry when I finished dinner. But by the time I finished dessert, Summit, Portage, Cuyahoga, Lorain and Medina counties had been hit with up to five inches of rain over two hours, the result of a Mesoscale Convective System that moved off of Lake Erie. Tornado and flood watches wreaked havoc with bedtimes and businesses in Northeast Ohio. Kortney Good was working concessions at the Regal Cinema in Hudson.
"A lot of people's phones were going off which indicated there was a storm. Once we evacuated everyone from the theaters, they all stayed in the hallways. And we could see and hear the storm a lot better."
KB: "Did everyone go home or did they stay to see the movie?"
KG: "Since the Tornado Warning was until 10:30, and we can't let people in until 15 minutes after that, there were only 2 people who stayed. To watch one movie."
Hydrologist Sarah Jamison says the National Weather Service in Cleveland is watching the Cuyahoga River today, which rose rapidly after last night's storms.
"I'm looking at the Cuyahoga River and we're very concerned that it's going to be reaching some very high levels. Possibly major, but we're still evaluating at this time. Either way, we are looking at the river hitting its banks.
"This system brought with it some very intense and heavy rainfall and some tornadic thunderstorms. It was quite a significant event and we're looking at averages probably between 2 to 4 inches [and] in isolated areas up to 5 inches. But most of that rainfall fell within a very brief period. We saw some very torrential rainfall rates and that quickly overwhelmed rivers, creeks and your poor drainage areas."
---
---