Loading...


Ohio



Tuesday, May 13, 2014




More thunderstorms are expected to hit NE Ohio tonight




Heavy rain is anticipated through Thursday, which may cause flooding




Story by

LYNDSEY SCHLEY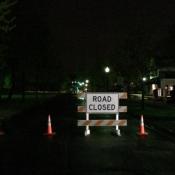 Heavy rains caused flooding in many areas, including Ravenna Road in Hudson.
Courtesy of Kabir Bhatia
Download (WKSU Only)
In The Region:
Northeast Ohio is in for another round of severe thunderstorms tonight and can expect heavy rain and flooding through Thursday. Meteorologist Frank Kieltyka of the National Weather Service in Cleveland, says last night's sustained storms dropped 2 to 5 inches of rain across the region. Kieltyka expects tonight's storm will move through quicker and leave less rain.
"A lot of these areas got some substantial rain yesterday, yesterday evening especially," Kieltyka says. "The ground is saturated and additional significant rainfall can cause some flooding."
The flooding has closed parts of the Towpath Trail and damaged part of the tracks for the Cuyahoga Valley Scenic Railroad.
---
---
Stories with Recent Comments