Loading...


Health and Medicine



Tuesday, May 13, 2014




Ohio Democrats lay out their fight against heroin




They want more money for treatment as well as more flexibility with search warrants




by WKSU's STATEHOUSE CORRESPONDENT JO INGLES



Reporter
Jo Ingles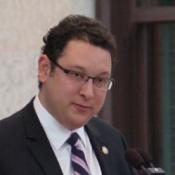 Rep. Dan Ramos says heroin use in Ohio has reached epidemic proportions.
Courtesy of State of Ohio
Download (WKSU Only)
In The Region:
Some Democrats in the Ohio Legislature say it's time for state leaders to declare a heroin epidemic in Ohio. Rep. Dan Ramos represents Lorain, which has been struck hard by heroin overdoses.
"Ohio now suffers from the 12th highest overdose mortality rate in the country. We know that over a record 606 died in 2012 in Ohio from heroin overdoses. Sadly, that year more people died from heroin overdoses or car accidents in our state."
The Democrats' plan includes spending $100 million, achieved through Medicaid savings, for treatment programs. The plan also provides some ways to help law enforcement by increasing the time a search warrant can be executed and establishing rules for the sale of gold or silver to shops that will pay cash for those precious metals.
---
---
---
Stories with Recent Comments