Former Ohio State University football coach Jim Tressel has signed on to be the ninth president of Youngstown State University, where he started his college coaching career. Youngstown's Board of Trustees and Tressel on Monday signed a letter of understanding identifying key terms of a contract through June 2017.

Unprecedented
Terry Pluto calls the move "unprecendented." But, says Pluto, so is much of where Tressel has gone since he left Ohio State under a cloud in 2011 is also unprecedented. "He recreates himself after getting in trouble with the NCAA, lying about his players getting free tattoos, basically, and then ends up as a top candidate for two jobs, Akron university and Youngstown State and being hired by Youngstown State."


What skills make Tressel a good fit?
Pluto says Tressel's years of coaching make his move to college president a seamless one. "He can raise money. All good coaches can recruit and sell. … For 15 years, (as YSU head football coach), he sold Youngstown State to grandmothers and mothers and fathers and kids. Granted, he sold the football program, but he sold the academics, he sold the school … and he sold himself."

"Now he won't be selling the athletes and recruits, but he'll be selling the boosters, he'll be selling the businessmen in the area," Pluto says. "And when Jim Tressel walks into a room to speak at a fundraiser, he doesn't have to introduce himself. People already know who he is."
"If you look at a primary job -- along with being a good administrator -- at a college is to raise money, to me hiring Tressel is a wise move at the right college, especially one where he has a long history."
CEO of football
Pluto says that for coaches who run big-time programs like Ohio State's, "you're like a CEO of football. You're not out there holding the blocking sled and lining the field. Basically your budget is … $12 million or $14 million. And you've got something like 15 coaches and you have 85 players on scholarship and another probably 25-30 for walk-ons. And a whole battery of people who are tutors and academic counselors, and you have training staff. You have to have managerial skills to do this."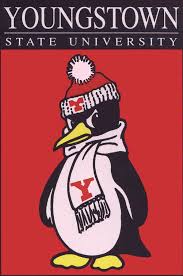 Right at home
"A big part of what he'll be doing is the same thing he did as a coach at Ohio State and Youngstown State: Sharing the vision, creating the vision, getting people on board, convincing them this is a good idea and having them write checks."
And given their long history with Tressel, "People at Youngstown State are not going to worry about some minor NCAA violations."
Tressel's base salary at Youngstown is $300,000, about $150,000 less than he would have made had he gotten the top job at the University of Akron. But Pluto says this is where he wants to be.
"To Jim Tressel, this is home. He grew up in Berea, went to Baldwin Wallace, he never coached outside Ohio. And Jim's a hard worker, too. He's not going to just cash a check and say, 'Kiss my Ohio State ring.' He'll get people on board.
If Tressel terminates the YSU contract within a year, he'll pay the university $200,000; and slightly less if he leaves each of the next two years after that.
Other options:

MP3 Download
(8:15)