La Rosa's trombone was at his side when we spoke in Cologne, half-way through the orchestra's multi-city tour. He'd stopped on the way to an early morning rehearsal after performing late into the night before, but his large brown eyes were as clear as his trombone's trademark tone.
La Rosa's well accustomed to the rigors of travel. He's much in demand internationally as a soloist and teacher. He keeps busy, too, in Cleveland, often playing for charity.
The Dystonia Medical Research Foundation receives proceeds from his latest CD, titled Sempre Espressivo.
Bach is like a grandfather
It begins with Bach. La Rosa reveres him.
"The music is so magic and so right in a way that I can really feel something. It goes deeply inside to me."
Bach's six suites for unaccompanied cello have been transcribed for many instruments, from mandolin to marimba to ukulele.
On trombone, mastering the long-flowing passages didn't give La Rosa much chance to breathe.
He's had many challenges since age 9, when he joined his father and grandfather in their Italian village's community band. Thirty years later he's reached the pinnacle of his profession.
But Bach still humbles him.
"When you're a player, certain level, I perform in one of the best orchestras in the world. I perform many recitals. And you convince yourself that you know something. But the experience that I had with Bach, I felt like a little kid compared to his grandfather that knows everything."
Dreams remembered
Also on the new CD is a piece whose title translates as "dreams," Wagner's "Traume." It was originally written for voice and piano, but La Rosa wrote a trombone arrangement.
"Actually that piece I never played before the recording. A week before this project was starting, my former student and also good friend; he passed away in a car accident in Cleveland."
Anthony P. Hopkins died last summer. He was 26.
"When a life is cut short in that way, when you are so young and you have so many dreams, and you are eager to achieve your dreams. ... This guy was working very hard every day because he was dreaming to be a great trombone player. And I wanted those dreams, they keep having life. And then I choose this piece.
"Beside the fact that it's a great piece of music it is a great homage to a great person that Anthony was."
And a source of inspiration, he hopes, for Anthony's fellow students at the Cleveland Institute of Music, where La Rosa heads the trombone faculty.
"I will be playing this piece and every time it will be for Anthony. And I hope all the friends they can do, even if they do like five minutes more practicing for Anthony, it will benefit them and it will keep Anthony close to them."
His family name on a new instrument
La Rosa has another recording project planned, but wants to keep it under wraps for now, saying only that it will add to the solo trombone repertoire.
He's busy, too, promoting the new La Rosa trombone he helped a Cleveland-based division of Conn-Selmer develop. He plays it now with the Cleveland Orchestra as well as on the new CD.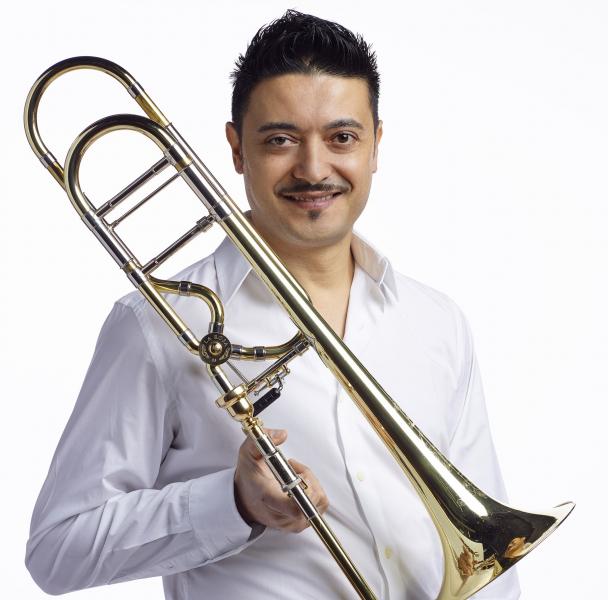 But his first instrument was one he also treasured.
"My father was a crane operator. My father bought that instrument, three times his salary. Then I promised myself to respect that instrument and to practice because they're making big sacrifice for you. And the best moment was when I showed to my father the instrument with his name. That's why I like to say this was the bonus. I could give to my father, to his father, something back for the sacrifice."
Ferdinand David's concertino, is on La Rosa's new CD.
It's also on Saturday's night's bill, with La Rosa as soloist, at Lakewood High School Civic Auditorium, in the final free concert of the Cleveland Orchestra's 2nd annual neighborhood residency.