Loading...


Government and Politics



Wednesday, May 14, 2014




Biden highlights transportaton money in Cleveland




VP urges support for a $302 billion White House proposal to renew the fund before it hits insolvency; that could happen by late summer


by WKSU's KABIR BHATIA


Reporter
Kabir Bhatia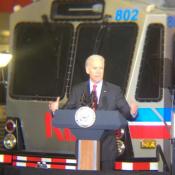 Vice President Joe Biden said he was happy to be "back in the [train] yard," recounting his days in Congress, commuting by train on the Northeast Corridor
Courtesy of KABIR BHATIA
Download (WKSU Only)
In The Region:
Vice President Joe Biden was in Cleveland today touting renewal of the Highway Trust Fund, which could be headed for insolvency by this summer. The fund relies on gasoline taxes, which have been dwindling.

The Obama administration is pushing a proposal to end some business tax breaks to net about half the $300 billion needed to replenish it. The vice president spoke at RTA's transportation hub on Cleveland's south side, which was refurbished partly with federal dollars.
"We're determined to create millions upon millions of good-paying jobs. And the most direct, immediate way to do that is to invest in rebuilding America. Invest in our infrastructure: trains, roads, bridges, canals, airports. That infrastructure, which is in serious need of repair.

Biden also cited investment in commercial rail near Cincinnati, and the rebuilding of Cleveland RTA stations, as two other projects that would not be possible without federal money. The House has until September to renew the highway fund. Republicans are generally supportive of road and bridge projects, but many are critical of investing in public transit.

The vice president says investment – in Cleveland and beyond – is what keeps jobs in the region.

"There's a thousand businesses located in University Circle and Little Italy with a combined $14 billion in economic input. You employ 50,000 workers -- nurses, scientists, researchers-- who will benefit from new, modern, energy efficient and convenient rapid transit."

Biden says 700,000 jobs could be lost if the Highway Trust Fund is not replenished by this summer, when it could reach insolvency. After his speech, the vice president headed to Presti's in Little Italy for coffee and Cannoli.

RTA chief Joe Calabrese says ridership last year hit its highest level since 1956, and that's one reason to support renewal of the federal highway fund. The White House wants to replenish the fund by doing away with some business tax breaks, and the vice president was here to drum up support for the proposal. Calabrese also pointed to another project during Biden's visit – the refurbishment of three RTA stations, which are up to 50 years old and getting makeovers thanks to federal dollars.

"The Cedar-University station is well on its way for a late summer, 2014 opening. The reconstruction of the Little Italy-University Circle station also started last fall. And that will open in 2015. And our board authorized a contract just last month to rebuild the Lee-Van Aken station on the Shaker line. Construction of that will start next month."

Calabrese also cited the jobs created by the projects at Ohio-based paint, architecture and construction companies.

---
---
---
Stories with Recent Comments