Loading...


Government and Politics



Thursday, May 15, 2014




Kasich says he and lawmakers are 'too far apart' on a fracking tax




Ohio's governor wants a higher drilling tax than fellow GOP lawmakers are pushing, but he won't use the word "veto"




by WKSU's STATEHOUSE BUREAU CHIEF KAREN KASLER



Reporter
Karen Kasler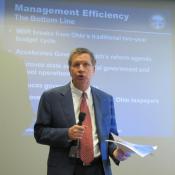 Gov. Kasich wants a higher drilling, tobacco and business tax to fund an income tax cut.
Courtesy of FILE PHOTO
Download (WKSU Only)
In The Region:
A fracking tax proposal is halfway through the Ohio Legislature. But as Statehouse correspondent Karen Kasler reports, it may be headed for trouble.
The bill puts a 2.5 percent severance tax on gross receipts on shale wells that are horizontally fractured, and allows drillers to deduct the commercial activity tax they pay from the severance tax they owe. It's estimated that will bring in $316 million over five years, which would go toward an income tax cut.
That rate is lower than Gov. John Kasich's proposed 2.75 percent tax -- he says, too low.
"Well, we're just, we're just way far apart on that. So that's all I can say today."
Asked if he would veto the measure, Kasich responded, "I don't want to speculate on that. You use that word and you're just asking for trouble. But we're too far apart to reach agreement at this point."


Kasich wanted to team a fracking tax increase with a hike in the cigarette tax and in the commercial activity tax to fund an income tax cut. Lawmakers have held no hearings on those last two proposals. Meanwhile, several House lawmakers have said they expect changes in the bill in the Senate.
---
---
---
Stories with Recent Comments