Loading...


Ohio



Thursday, May 15, 2014




Ohio bill would block cities' attempts to keep guns out of parks




But its sponsor withdraws it temporarily because of concerns over wording


by WKSU's KABIR BHATIA


Reporter
Kabir Bhatia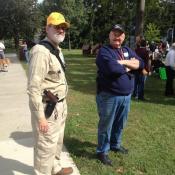 Last fall, gun rights activists like Joe Hanlon (left) and Dave Noice urged Oberlin to repeal its guns-in-parks ban, which is in violation of a 2007 state law
Courtesy of KABIR BHATIA, file photo
Download (WKSU Only)
In The Region:
Until earlier today, the Statehouse was considering legislation to prevent private groups, who lease public property, from blocking access to people carrying guns.

State law allows people to carry guns in public parks. But private owners still can forbid them. So some municipalities are leasing their parks to private groups specifically to get around the state law. Oberlin considered that last fall but City Councilwoman Sharon Pearson says the plan has not moved forward.
"We are trying to do what we can to comply with the law, but meanwhile try to investigate, still, what our options are. Because I know there are a lot of residents who are really concerned about these gun laws."

Meanwhile, state Sen. Joe Uecker, a southwest Ohio Republican, is trying to close off the private-lease option. But he pulled his first attempt today because it could have applied to places like the COSI museum in Columbus. Uecker says he's exploring alternative wording.
---
---
---
Stories with Recent Comments