Loading...



From WKYC.COM / TV 3
Get the latest school closings and delays


Funding for WKSU is made possible in part through support from the following businesses and organizations.
---
For more information on how your company or organization can support WKSU, download the WKSU Media Kit.

(WKSU Media Kit


)
---

Economy and Business



Thursday, May 15, 2014




Chinese auto-glass company takes over the bulk of GM's SW Ohio plant




The deal with Fuyao is sealed today




Story by

LEWIS WALLACE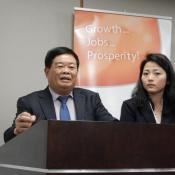 Chairman Cao Dewang of Fuyao auto-glass spoke alongside a translator.
Courtesy of Lewis Wallace
Download (WKSU Only)
In The Region:
The Fuyao auto-glass company signed off on a deal to purchase the former GM plant in Moraine today. That's after the announcement earlier this year that the large Chinese company will invest $250 million in the mostly abandoned plant and create 800 jobs. Fuyao's Chairman Cao Dewang visited Dayton to celebrate. With a translator, he appeared before a crowd of local and state officials and the current building owner, Stu Lichter.
"I just want to deliver the good news that today I just delivered a fifteen million dollar check to Mr. Stu Lichter over there and I bought the plant."
JobsOhio, which was instrumental in securing the deal, says this will be one of the largest Chinese investments in the country.
Montgomery County is putting $700,000 towards the improvements on the building. Other financial incentives offered by the state could become public soon.
Page Options

Print this page

E-Mail this page / Send mp3

Share on Facebook
---
---
Stories with Recent Comments