Loading...


Environment



Friday, May 16, 2014




Summit County declares a state of emergency




The region is looking for similar declarations from the state and feds


by WKSU's JEFF ST. CLAIR


Reporter / Host
Jeff St. Clair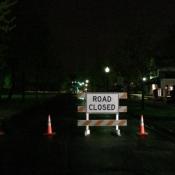 Three to five inches of rain fell in just a few hours Monday night, and the area has remained soaked since.
Courtesy of KABIR BHATIA
Download (WKSU Only)
In The Region:
Summit County Executive Russ Pry has declared a state of emergency stemming from storms and flooding earlier this week. County Emergency Management Agency Administrator Valerie DeRose says the damage extended throughout much of the region.
"Lots of basement flooding because the water came down so heavily. We do have some basement collapses in some homes. City Hall in Cuyahoga Falls was flooded, Summit County Public Health was flooded. And we have some roads with culvert damage and some erosion around the sides and we do have a bridge out in Bath Township."
Many parts of the region have also applied for emergency status from the state and federal governments. De Rose notes there's no guarantee of state or federal relief, but the local declaration should speed aid up if those other designations are approved.
---
---
---
Stories with Recent Comments