Loading...


People



Monday, May 19, 2014




First Gold Star Father statue unveiled in Clinton




The 8-foot granite statue salutes the men who have lost a child in combat


by WKSU's KABIR BHATIA


Reporter
Kabir Bhatia
Stephen Blackwell, Tom Seesan and Scott Warner (left to right) are Gold Star Fathers who have all dealt with the loss of a child in combat in different ways
Courtesy of K. Bhatia
Download (WKSU Only)
In The Region:
Ohio Veterans' Memorial Park, in southwest Summit County, is now home to a statue honoring Gold Star Fathers – men who have lost a child in combat. It's believed to be the first such statue in the United States. WKSU's Kabir Bhatia reports on what that means to Northeast Ohio's military dads.
Tom Seesan of Massillon says, "Being a Gold Star Father… sucks." He became a Gold Star Father the moment his son, Aaron, was killed in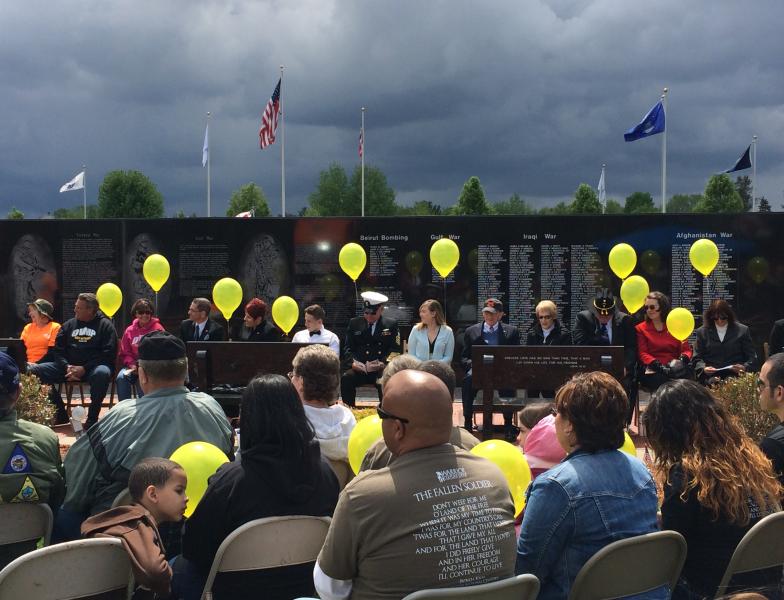 2005 while sweeping for IED's.

"I kept thinking to myself, 'Why are my neighbors going to work? Why are the kids going to school? Why are the stores open? Why is the traffic going up and down the street? My world [has] stopped. Why is everybody else carrying on?' But that's life."

He's one of three men who dedicated the Gold Star Father statue on Saturday at Ohio Veterans' Memorial Park southwest of Akron. While there are several Gold Star Mother statues in the U.S. – including one at veterans' memorial -- this is the first Gold Star Father statue anywhere, according to park volunteer, and Gold Star father, Scott Warner. He describes a dream he had several years ago after his son, Heath, was killed in Iraq.

"I was looking down, and I saw the Gold Star Mother and I saw a Gold Star Father looking back at her. And I said to the trustees, 'Have you ever thought about a Gold Star Father statue, facing the Mother? And they would be perpetually watching over the fallen?'"

Perpetually watching over
That's exactly what they're doing. The 8-foot tall, granite statue was made by Summit Memorials and funded by a $15,000 grant from the Mary S. and David C. Corbin Foundation. He stands clutching a folded American flag, a somber look on his face, with nearly closed eyes. And he watches over one side of the 125-foot wall featuring the names of Ohioans killed in combat.

"This statue is dedicated to all you fathers. We honor your sacrifice, pain, loss, love and pride for your children. I know our children are looking down and smiling and cheering each of us today."

During the ceremony, wind, dark clouds and rain swirled over the more than 200 people visiting for the statue's unveiling. Warner was one of many people who says that was symbolic.

"Even the rain, I felt, was so appropriate. Because fathers don't cry. And they hold the tears in. And it was sort of like, the tears came. And so, even the rain was special to me today."

Different ways to heal
Warner also says he agrees with Tom Seesan's feeling that being a Gold Star Father is not a club anyone chooses to belong to. But Warner also understands the view of Stephen Blackwell. His son, Justin, was killed in Iraq in 2007.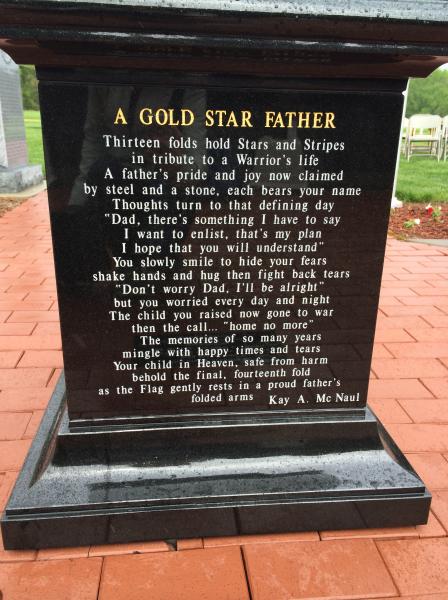 "For Gold Star Fathers, no words are necessary. For those who have never lost a child, there are no words that can begin to explain it.

"For us Gold Star Fathers, I believe there's an explanation of that five-pointed star. There was a man that said at one time, 'The five-pointed star is the sign of the devil.' I respectfully and vehemently disagree. To me, that five-pointed star with that point going up says: a son or daughter stood firm for the freedoms of our country."

Blackwell, of Tennessee, runs goldstarfathers.com, which offers support for grieving families. Scott Warner has written a book about his experiences, Gold Star Father: Honoring a Hero, Remembering a Son. Warner also organizes a run every Memorial Day in honor of his son.
---
---
---
Stories with Recent Comments