Loading...


Economy and Business



Monday, May 19, 2014




Heavy rains have slowed dredging operations slightly in Cleveland




Corps of Engineers says shipping channel clearing will start a few days later than planned


by WKSU's KEVIN NIEDERMIER


Reporter
Kevin Niedermier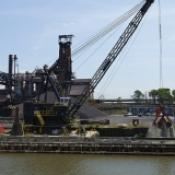 Dredging Cleveland's shipping channels to keep freighters moving in and out. Last week's heavy rain has put this spring's operation a few days behind schedule.
Courtesy of Port of Cleveland
Download (WKSU Only)
In The Region:
The Army Corps of Engineers says last week's heavy rains have impacted dredging operations in Cleveland's shipping channels.
The Corps' regional dredging director, Michael Asquith, says work should get started this week in the shipping channels in the Cuyahoga River and through Lake Erie.
But he says that's a few days later than planned because they needed to let the high waters recede. Asquith says initial surveys indicate a lot of sediment was washed into the river and lake from the storms.
"It'll be a little more pronounced in Cleveland because of the nature of the river there. We know that's an event driven channel. The vast majority of the sediment we get occurs during storm events. And, of course we had a storm event and we'll see a significant amount of shoaling because of it."
Asquith says the Corps never wants to start dredging in Cleveland before mid-May. That's because the threat of heavy spring rains can mean the operation will have to be repeated, which has happened before. The channels need to kept clear so freighters can supply Cleveland's Arcelor-Mittel steel mill with iron ore and coke, and other shipments can come and go. So far, Port of Cleveland officials say no ships have reported any problems.

This year's dredging was almost put on hold because the Ohio EPA had refused to let the Corps dump the sediment into Lake Erie because of pollution concerns. But last month the Corps announced it would follow that order and put the sediment into the existing disposal facility near Burke Lakefront Airport, which is nearly filled to capacity.
---
---
---
Stories with Recent Comments