Loading...


Environment



Tuesday, May 20, 2014




Broadview Heights plans to fight new drilling plans




The city charter says no knew drilling; but state law says that irrelevant


by WKSU's M.L. SCHULTZE


Web Editor
M.L. Schultze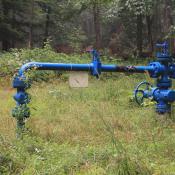 One example of a traditional natural gas well.
Courtesy of Creative Commons, Andy Arthur
Download (WKSU Only)
In The Region:
The city of Broadview Heights plans to challenge a company's attempt to drill a new gas well here. Gonzoil, which is based in Stark County, already has a couple dozen wells Broadview Heights. But they predate a charter amendment voters strongly supported in 2012. The "community bill of rights" bans new drilling. Gonzoil's Frank Gonzalez confirmed his company has accumulated leases for more than the 20 acres and is applying to the Ohio Department of Natural Resources to bore a new directional well at the end of this summer. The well would be in Councilman Brian Wolf's ward, and he says the city takes the charter amendment seriously.
"When we are sworn into our council position, we say that we're going to uphold the charter of the city of Broadview Heights. It's in the charter, it's an amendment so we have to uphold it. We will do everything we can to make sure the community bill of rights is upheld."
But Ohio law says only the state can regulate drilling. That law is being challenged separately in the Ohio Supreme Court by Monroe Falls, which says it can't supersede home-rule provisions in the Ohio Constitution.
---
---
---
Stories with Recent Comments