Loading...


Government and Politics



Thursday, May 22, 2014




Cleveland is one of four finalists for the 2016 Republican National Convention




Cleveland is also one of 15 cities -- along with Columbus -- that submitted bids to the Democrats for 2016


by WKSU's KABIR BHATIA


Reporter
Kabir Bhatia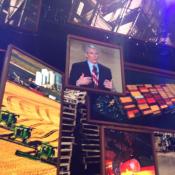 Even though Cleveland is still in the running for both 2016 political conventions, when it comes to money, some economists say they're a wash
Courtesy of M.L. Schultze
Download (WKSU Only)
In The Region:
Cleveland today made the cut as one of four cities vying for the 2016 Republic National Convention. And the city is also in the running for the 2016 Democratic Convention. WKSU's Kabir Bhatia reports.
Las Vegas and Cincinnati dropped out this afternoon. Cincinnati says its USBank Arena needs $20 million in upgrades to remain competitive. Columbus was eliminated in an earlier round, so that leaves Cleveland competing with Dallas, Denver and Kansas City. All four will get site visits next month. University of Akron Political scientist Dave Cohen says Cleveland would be a good bet for Republicans hoping to neutralize some of the overwhelmingly Democratic voters in Cuyahoga County, which essentially won the 2012 election for President Obama. But Cohen adds that should Gov. Kasich begin a run for the White House, Cleveland's chances could actually suffer.

"Being a favorite son, certainly Gov. Kasich would have a real advantage in Ohio. And it probably would be worth their while to go elsewhere. However, he's made no indication he's running for president. If anything, [he's] probably more of a contender to be a vice-presidential nominee."

And that could still lead Republicans here in two years. But Democrats are also considering Cleveland -- and Columbus – plus 13 other cities to host their 2016 get-together. Of the two Ohio cities, Cohen gives Cleveland the edge for bringing out the Democratic base.
---
---
---
Stories with Recent Comments