Loading...



From WKYC.COM / TV 3
Get the latest school closings and delays


Funding for WKSU is made possible in part through support from the following businesses and organizations.
---
For more information on how your company or organization can support WKSU, download the WKSU Media Kit.

(WKSU Media Kit


)
---

Social Issues



Thursday, May 22, 2014




Small group protests new Catholic teachers' contracts




They push to go back to don't-ask-don't-tell




Story by

TANA WEINGARTNER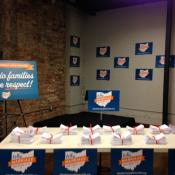 As the debate over gay marriage unfolds politcally in Ohio, it's also playing out in a debate over Catholic teachers' contracts.
Download (WKSU Only)
In The Region:
A small group gathered this morning across the street from the Cincinnati Catholic Archdiocese offices. They were protesting a new Catholic school teaching contract that includes language prohibiting employees from publicly supporting causes that run counter to the church's teachings.

They were also supporting high school teacher Dick Hague. The 66-year-old literature teacher plans to retire from a 45-year career rather than sign the new contract. Former high school dean of student life, Mike Moroski, spoke to the media.
"All of this was avoidable. The contract could have stayed the same, as Dick Hague says, it wasn't perfect, but it was a don't-ask-don't-tell kind of policy and it worked. All I and and a lot of other folks asked the archdiocese to do is revert to the old language."
Moroski himself was let go a year ago after writing a blog post supporting gay marriage. The Archdiocese says the contract reflects the teachings of the Catholic church and will not change it. Communications Director Dan Andriacco says the Archdiocese knows of nine people who are quitting or retiring because of the contract. The Cincinnati Archdiocese governs 94 schools with about 28,000 employees.
Similar contract language is being required of elementary teachers in the Cleveland diocese.
Page Options

Print this page

E-Mail this page / Send mp3

Share on Facebook
---
---
Stories with Recent Comments