Loading...


Environment



Friday, May 23, 2014




Summit County's flood cleanup is nearly complete -- but paying for it is not




The Shaw Road bridge replacement makes up half of the county's request for FEMA relief


by WKSU's KABIR BHATIA


Reporter
Kabir Bhatia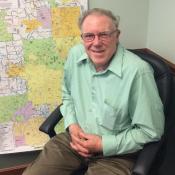 Summit County engineer Al Brubaker says using retention ponds and stormwater rain barrels could help mitigate the damage from storms
Courtesy of K. Bhatia
Download (WKSU Only)
In The Region:
Summit County says road cleanup is almost complete after last week's storms. But as WKSU's Kabir Bhatia reports, a major re-construction project remains.
Summit County has requested nearly three-quarters of a million dollars in emergency relief funds due to major road damage and flooding. More than half of that -- $400,000 – is to rebuild the 80-year-old Shaw Road Bridge in Bath. Its collapse into the Yellow Creek was not expected, according to County Engineer Al Brubaker.

"The bridge was in very good shape. It wouldn't have been scheduled for replacement for a long time. Our goal is to try to get that bridge reconstructed before school starts in the fall. It's a tough schedule – it's going to be hard to do that -- but that's what we're going to try and do."

Brubaker adds that blueprints for the old bridge are no longer available, so his crew must also spend time redesigning the structure to meet modern standards. Summit County does not expect to hear back about the status of it request for a disaster declaration and Federal Emergency Management Agency relief until next week.
---
---
---
Stories with Recent Comments