Loading...


Environment



Tuesday, May 27, 2014




Ohio House committee OK's first-in-nation renewable energy freeze




Two Republicans break ranks and say more share their objections




by WKSU's ANDY CHOW



Reporter
Andy Chow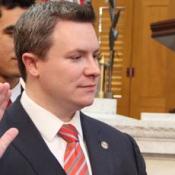 Mike Duffey was pushing for a one-year freeze, not two.
Courtesy of State of Ohio
Download (WKSU Only)
In The Region:
A controversial energy bill takes another step after legislators passed it out of a House committee today. But as Statehouse correspondent Andy Chow reports, Republican leadership moved the bill while facing strong opposition from members of their own party.
The new bill would freeze Ohio's efficiency and renewable standards for two years. Republican Reps. Mike Duffey of Worthington and Mark Romanchuk of Mansfield wanted to bring that down to a one-year freeze.
Duffey says he doesn't like the bill because it makes a lot of changes without taking what he feels are the right steps to benefit consumers. But his attempts to amend the bill were struck down. While the committee eventually approved the bill, Duffey believes the final vote doesn't tell the whole story.

"I think that other members of the committee had an inclination to do something on this but when they felt like they couldn't or they got a lot of pressure from their home districts. There are a lot of people who would rather not have this bill pass … that are still going to vote for it I think."

Duffey and Romanchuk were the only Republicans in the committee to vote against the bill along with all but one Democrat. The bill is expected to move to a full House vote this week.
---
---
---
Stories with Recent Comments