Loading...



From WKYC.COM / TV 3
Get the latest school closings and delays


Funding for WKSU is made possible in part through support from the following businesses and organizations.
---
For more information on how your company or organization can support WKSU, download the WKSU Media Kit.

(WKSU Media Kit


)
---

Courts and Crime



Wednesday, May 28, 2014




Ohio Supreme Court upholds Cleveland's Public Square curfew




State high court reverses appeals court and arguments that the curfew violates constitional protections of free speech and right to assembly


by WKSU's M.L. SCHULTZE


Web Editor
M.L. Schultze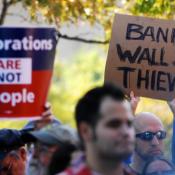 The curfew allows demonstrations like this by Occupy Cleveland on Public Square during the day, but requires a permit to remain on the square from 10 p.m. to 5 a.m.
Courtesy of LAURA FONG, File photo
Download (WKSU Only)
In The Region:
The Ohio Supreme Court says Cleveland can prohibit people from camping overnight in the city's Public Square unless they have a permit. The 6-1 decision — which reverses an appeals court -- says Cleveland's law does not violate Constitutional rights of free speech and assembly because it applies to everybody regardless of their message and bans no particular form of expression. Occupy Cleveland was protesting in October of 2011, and membrs were told to leave at 10 p.m. unless they had a permit. Erin McCardle and Leatrice Tolls were arrested when they didn't leave and they pleaded no contest to violating the curfew. Justice Judith Lanzinger wrote that the curfew also serves a significant government interest – public safety. She also noted that the curfew does not apply to sidewalks around Public Square, so protesters could have moved there. Justice Paul E. Pfeifer dissented, saying, "How can an ordinance that prohibits one person from remaining in Public Square be considered narrowly tailored … when the same ordinance allows 1,000 people or 100 people or one person to walk back and forth through the park all night?"
---
---