Loading...


Courts and Crime



Wednesday, May 28, 2014




Youngstown mayor will be arraigned tomorrow




Charges are related to rental property while McNally was Mahoning County commissioner


by WKSU's M.L. SCHULTZE


Web Editor
M.L. Schultze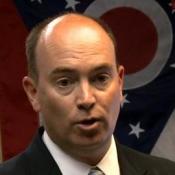 The charges against Mayor McNally date back to his time as Mahoning County commissioner.
Courtesy of Screen capture
Download (WKSU Only)
In The Region:
Youngstown's mayor, the Mahoning County auditor and a failed candidate for prosecutor are expected to enter 'not guilty' pleas to more than 80 corruption charges in Cuyahoga County Common Pleas Court tomorrow. Mayor John McNally has repeatedly declared he's innocent of the charges, which he calls a rehash of ones that were filed in Mahoning County and then dropped. The charges include bribery, engaging in a pattern of corrupt activity, money laundering and perjury. They're linked to Mahoning County's purchase of a building when McNally was a county commissioner. At the time, the county was renting space for Job and Family Services from Cafaro Co., and McNally fought moving the offices to the newly purchased building. Also facing the charges are Auditor Michael Sciortino and attorney Martin Yavorcik. Some 20 other people are referenced in the indictments, which were handed down May 14.
---
---
---
Stories with Recent Comments