Loading...


Ohio



Wednesday, May 28, 2014




Kent State approves 2 percent tuition hike




Most will go toward financial aid, and comes a year after a 1.5 percent hike


by WKSU's KABIR BHATIA


Reporter
Kabir Bhatia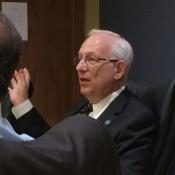 Retiring President Lester Lefton attended his final Board of Trustees meeting, at which Kent State raised tuition 2 percent
Courtesy of K. Bhatia
Download (WKSU Only)
In The Region:
Kent State is increasing tuition 2 percent, which is projected to raise about $11 million, half of which will go toward scholarships. WKSU's Kabir Bhatia reports that the hike is the maximum allowed by state law, and matches those of other schools in the region, including the University of Akron and Youngstown State.
(Correction: Revised figures from Kent State show the tuition increase will raise about $5 million for Kent's main campus and $1.3 million for regional campuses.)

Kent State's base tuition will be $10,012 this coming year, which is middle-of-the-pack for state schools in Ohio. It follows an increase last year of 1.5 percent last year, which went mostly toward financial aid.

VP of Finance Gregg Floyd says it's a way for the school to keep college affordable for more students.

"Certainly everyone understands the difficulty of coming to any university and not leaving with a large debt. We're very aware that the students who come here -- some of whom are first-generation students -- are looking at a very large bill. We try to mitigate that as much as we can by allocating as much as we can to the financial-aid budget."

During the meeting, Trustee Dennis Eckart – who takes over as chairman this fall – noted that more than a third of Kent State students are also getting federal Pell Grants. He says the school has tried to increase the amount and types of financial aid available, along with the increases in tuition.

The tuition increase comes despite a petition from students to freeze costs and make the university a debt-free campus.

More than 650 students signed the End Student Debt at Kent State petition, presented to the Kent State Board of Trustees this morning. Floyd says tuition hikes are a function of the economy, and he does not anticipate fewer increases in the future.

"I'd love to see that happen but I don't think that's very likely given the history that we've got. The state has been very generous within the capabilities that the state can be. As more and more emphasis is placed upon the dollars from tuition to help fund the costs of maintaining the university, I just don't see it."

The petition also asks Kent State to end the tuition plateau, where students are charged for any credit hours beyond what's considered a full-time load.

The nonprofit Project on Student Debt says Kent students owed $32,000 on average, the highest among state schools, and $3,000 above the state average.




---
---
---
Stories with Recent Comments