Loading...


Government and Politics



Thursday, May 29, 2014




Liberal groups calculate the cost of state cuts to local taxpayers




They say a 'techtonic shift' has cost taxpayers and local schools and governments




by WKSU's ANDY CHOW



Reporter
Andy Chow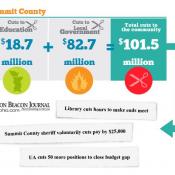 The web site breaks down by county what the groups maintain the state cuts have cost.
Courtesy of cutshurtohio.com
Download (WKSU Only)
In The Region:
A coalition of liberal-leaning think tanks has relaunched a website that depicts how much they say Republicans have cut in funding to local schools and governments. Cuts hurt ohio.com is a compilation of data from Innovation Ohio and Policy Matters Ohio. The groups say Gov. John Kasich and the GOP-dominated Legislature have cut nearly $2 billion from local schools and other entities. Stephen Dyer with Innovation Ohio says the cuts have led to more tax levies on the local level.
"People need to understand that what's going on in Columbus is directly affecting their property tax bill because now they're having to make the decisions that the legislators in Columbus refuse to make, and that's a real tectonic shift."
The groups' funding breakdown does not take into account any changes in the state budget update lawmakers passed this month because none have yet gone into effect.
---
---
---
Stories with Recent Comments