Loading...


Courts and Crime



Friday, May 30, 2014




Cleveland cop is indicted on manslaughter charges in chase-shooting; others face misdemeanors




Cuyahoga County grand jury hands down indictments 18 months after the mass chase


by WKSU's M.L. SCHULTZE


Web Editor
M.L. Schultze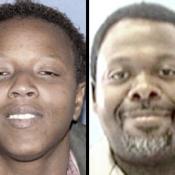 The chase that ended with the shooting of Malissa Williams and Timothy Russell was joined by more than 100 police officers.
Courtesy of File photo
Download (WKSU Only)
A Cleveland police officer has been indicted on two counts of manslaughter in the November 2012 chase and shooting of two unarmed people. Cuyahoga County Prosecutor Tim McGinty says officer Michael Brelo fired 49 shots at Malissa Williams and Timothy Russell – some from the hood of Russell's car after it was stopped and trapped in an East Cleveland school yard. By then, McGinty maintains, the only danger to officers was each other.
"The car was fully stopped. Escape was no longer even a remote possibility. The flight was over. The public was no longer in danger because the car was surrounded by police cars and entrapped and 23 officers in a school yard -- safely removed from pedestrians and traffic. The primary danger facing police at this time was himself if they continued to shoot in the circular firing squad they had inadvertently formed."
Williams and Russell had fled a downtown Cleveland traffic stop, and more than 100 officers joined in the 25-minute chase. Thirteen were involved in the shooting.

McGinty says the five indicted supervisors let things get dangerously out of control.

LISTEN: McGinty on supervisors
Other options:

Windows Media /

MP3 Download

(0:20)

"These supervisors ... were actively involved in this chase ... allowed a disturbed petty criminal take charge of a large part of the Cleveland police force that was on duty that evening and to unnecessarily endanger motorists and citizens in two cities.

The supervisors have been reassigned, and Brelo has been suspended without pay.

His union says he will be found innocent, and that he was in genuine fear that night.
---
---
---
Stories with Recent Comments