Loading...


Ohio



Saturday, May 31, 2014




Cleveland Patrolman's Association says evidence will exonerate officers




Attorney for police union says Ofc. Brelo acted appropriately


by WKSU's KABIR BHATIA


Reporter
Kabir Bhatia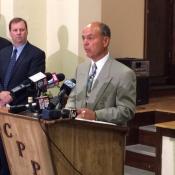 CPPA counsel Pat D'Angelo says he received no calls from Prosecutor McGinty about the case until Friday afternoon, about 10 minutes before the indictments were announced
Courtesy of K. Bhatia
Download (WKSU Only)
In The Region:
The Cleveland Police Patrolman's Association also held a press conference after Friday's indictments of six officers. And the union took issue with Cuyahoga County Prosecutor Tim McGinty's conclusions, and saying the evidence will exonerate Officer Michael Brelo. WKSU's Kabir Bhatia reports.
About 50 Cleveland Police officers and Patrolman's Association officials held a press conference at their headquarters on W. 58th Street, less than an hour after Prosecutor McGinty announced the grand jury indictments.

Attorney Pat D'Angelo says Officer Michael Brelo – and the other officers involved in the 2012 shooting -- are looking forward to their day in court.

"You must put yourselves in the shoes of the police officer, where he has to react in a very dangerous setting with rapidly unfolding events."

D'Angelo went on to attack Prosecutor McGinty and the city of Cleveland's actions in the last 18 months, which included disciplining scores of officers involved and firing one supervisor and demoting two others.

"Mr. McGinty, in his press conference and in his press release, has had the luxury to structure his comments and structure his press release in such a way to set forth his theory of the case. It doesn't mean that his rendition of events is an actual portrayal as to how things occurred."

D'Angelo also said the proceedings have resembled a kangaroo court, calling out Mayor Frank Jackson and Safety Director Martin Flask for their statements in the days after the shootings.
---
---
---
Stories with Recent Comments