Loading...


Environment



Monday, June 2, 2014




Obama's plans to cut emissions will have major impact on Ohio




AEP is the biggest owner of coal-burning power stations in the country




Story by

TERRELL JOHNSON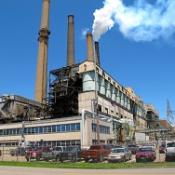 AEP says the president's proposed greenhouse standards would cause them to shut down some of its largest units
Courtesy of WOSU
Download (WKSU Only)
In The Region:
The spokeswoman for the Columbus-based AEP believes customer utility bills will rise significantly if the president's plans to cut emissions at power plants go through. Melissa McHenry says AEP carbon dioxide emissions already dropped more than 20 percent last year compared to 2005. And she says they will continue to drop. Meanwhile, she acknowledges AEP contributes a lot of greenhouse gases to the atmosphere.
"AEP is one of the largest submitters of CO2 in the US, and that's largely because we depend on a lot of coal to generate electricity; Its provided low-cost reliable power for our customers for many years."
Seventy percent of Ohio's energy comes from coal-fired plants. President Obama maintains that his plan will lower electricity prices and keep vulnerable Americans safe.
---
---
Stories with Recent Comments